Promise Land LLC
Our Goldens descend from European Lines.
Dedicated to Quality!
We will schedule each family separate that we are working with.
Our practice has changed and we are no longer
doing general visits for the public
due to Covid and the protection of our family and home.
We are using email for puppies due to overwhelming calls.
promiselandgoldens@verizon.net
​
Frequently asked questions
Is your puppy able to be registered to the AKC?
---
Yes, Your puppy is able to be Ltd Registered with the AKC. Limited Registration means that the dog is registered but no litters produced by that dog are eligible for registration. A dog registered with an AKC Limited Registration shall be ineligible to be entered in a breed competition in a licensed or member dog show. It is eligible, however, to be entered in any other licensed or member event. These events include: Obedience, Tracking, Field Trials, Hunting Tests, Herding, Lure Coursing, Agility and Earthdog. Breeding is a very complicated and serious decision. So many people have decided to breed dogs because of the financial benefits. An ethical breeder does not breed to make income- they breed to advance only the healthiest Goldens & French Bulldogs to the happiest homes. AKC Full Registration is for a breeding and show dog. Promise Land Goldens review the breeder's who apply. I require your state license, animal control license, vet's you use information, clearnces on your dogs to make sure everything is up to date as it should be. The cost is more and 99% of our dogs will go to pet homes.
---
How are the puppies selected?
---
Reservations are filled in order of we receive them. Puppy selection can be tough at an early age, so we wait until pups are seven weeks old to begin making the decisions process. This gives the puppies time to develop physically and emotionally. Every puppy is assigned a separate colored collar from birth so that we can observe and note the personalities of each puppy as they grow. By seven weeks of age they have enough of a distinct personality to share with the buyers.
We do consider your request of which puppy you would like but we make the ultimate descion to fit perfectly in different families. Also if the puppy must fulfill a job.
---
What does it mean to socialize a puppy?
---
The first three weeks in a puppies life is cruial they are held often and loved, kissed and touched. This helps form a trusting foundation on which your dog will learn and grow. Using Early Neurological Stimulation and Touch Desensitization techniques helps form the behavior of the puppy.
Our indoor facility is well-maintained, fully heated and cooled for the comfort of our workers, as well as our dogs. We have a separate nursery area for the pregnant mothers and newborns. There is even a assistant available 5 days a week to help us keep everything in top condition. We ensure our European Golden pups are well adjusted and meet all kinds of people and animals with a calm, assured confidence and friendliness? The key is to ensure our pups encounter all of the common scenarios which they are likely to experience throughout life with their forever families. We work on diferent footing surfaces to redue fear. We use slides, loud household sounds – all these are woven into their daily lives here, giving them numerous opportunities to learn the art of encounter and adjustment, and to ingrain in them the confidence that something or someone new is not meant to be a source of fear, but of delight.
We use the rules of seven.. The Rule of 7 was adapted from Dr. Carmen Battaglia's guide for increasing puppy's exposure. You do not have to follow it to the letter, but make sure your puppy is current on all shots before taking them out into a strange area. By the time a puppy is 3 months, make sure they have: The Rule's of 7 in Puppy Socialization Been on 7 different types of surfaces: carpet, tile, linoleum, concrete, wood, vinyl, grass, dirt, gravel, and wood chips. Played with 7 different types of objects: rope toys, plush toys, big balls, small balls, soft fabric toys, squeaky toys, paper or cardboard items, metal items, and sticks. Been in 7 different locations: front & back yard, basement, kitchen, car, garage, laundry room, bathroom, kids room, living room, hallway, Vet's office, groomers. Met and played with 7 new people: include children and older adults, someone walking with a cane or in a wheelchair or walker, someone tall, someone in a hat. Been exposed to 7 challenges: climb on a box, go through a tunnel, climb steps, go down steps, climb over obstacles, play hide and seek, go in and out of a doorway with a step up or down, run around a fence. Eaten from 7 different containers: metal, plastic, cardboard, paper, human hands, pie plate, tin pan, frying pan, Frisbee, elevated bowl. Eaten in 7 different locations: crate, yard, exercise pen, basement, laundry room, living room, bathroom, back yard.
Each new, positive experience will help your puppy flourish into a confident companion. Allow your puppy to learn passively by letting them to explore on their own, but make sure they are 100% supervised and that it is a controlled environment. Do not use any harsh training methods with a puppy, because you will break the bond of trust. Training should be fair and fun. We use noise desensitization using vacums, bells, music extra for Household Desensitization and Sound Stimulation. We start crate training at 5 weeks.
They learn a dog door at 4 weeks. We have a small trampoline to teach footing. It helps with car rides and being on boats.
We think all puppies should go through the "Rule of Seven" socialization process. The rule of 7 is a trick we learned to help introduce our golden retriever puppies to new environments and get them used to many different things they may encounter in their lives. Rule of seven introduces the pups to small stresses that will help boost confidence, social behavior, and their trainability.
Puppies are washed on a regualr basis to include body handling protocol, including sitting still for grooming, cleaning ears, bathing and trimming nails
---
What is the earliest you can pick up your puppy?
---
Your puppy can be picked up at 8 weeks of age. We always highly encourage you to make sure not to have a lot of chaos right when you get your pup. You want the first few days to be very calm and relaxed with a very consistent schedule. This will help your pup adjust to your home and learn the routine. Please don't change your dog food for at 2-4 months after receiving your puppy.
---
Can you extended your guarantee? Why NuVet?
---
After seeing the remarkable results of NuVet in the lives of our own pets, show and the breeding stock and our companions, has caused us to make our first and only endorsement. The results are so fantastic that we have extended our Guarantee to 3 years when you use NuVet. Be sure to order this supplement prior to picking up your pup. It is not available in stores and only available to the general public with the recommendation of an authorized pet professional. Thousands of the nation's top veterinarians and other pet industry professionals use NuVet Plus® for their own pets and recommend it to their clients' pet.

NuVet http://www.nuvet.com/37695 Promise Land Golden's Extended our Guarantee to 3 years with the use of NuVet Vitamins Not Available in Stores CALL NOW TO ORDER 800-474-7044 Order Code: 37695 Save up to 15% on Autoship when you order here: 60-DAY MONEY BACK GUARANTEE!
---
What do I need to bring when picking up my puppy?
---
We recommend that you bring a travel crate (~22 in. high for 8 week)or someone to hold the puppy, some large bath towels, a small collar or body harness, a basic leash (NOT a retractable leash because they fear them at first), paper towels, garbage bags, some chew toys, water and a water dish. https://www.chewy.com/midwest-skudo-standard-plastic-pet/dp/117096
---
What is our address? What is the best way to reach us? Owner?
---
promiselandgoldens@verizon.net Lori Froderman 8012 Harpers Lane Pasadena MD, 21122
---
What do I do if I can no longer care for my Golden?
---
It is our policy that if you can no longer care for your Golden because of a move, because of financial difficulties or any other reason that we are given the opportuniy to place the dog in a loving home. We always want to make sure our pups go to quality homes, for the entire life of the animal. Goldens purchased should never be sent to an animal shelter, a rescue center or given to someone else without prior approval.
---
Things that can kill your dog!
---
Here is a link to a list of common household items/foods that can harm and/or even kill your puppy! Please never feed your dog people food or candy and keep all indoor plant out of reach just to be safe. These are the animal hotline numbers you can call if you suspect your puppy/dog has eaten something toxic: ASPCA Poison Control: (888) 426-4435 ($50 fee) Animal Poison Hotline: 888-232-8870 ($35 fee) Pet Poison Hotline: 800-213-6680 ($35 fee) https://www.pragmaticmom.com/2011/07/things-dogs-eat-that-will-kill-them-raisins-onions-etc/
---
What is the difference in European and American Golden's?
---
Please see our history of Golden page for more information. https://www.promiselandgoldens.com/history-of-goldens A summary provided.
---
FDA - Food Recalls!
---
Here is link to current data. https://www.fda.gov/animal-veterinary/safety-health/recalls-withdrawals
---
Hip Dysplasia?
---
Hip Dysplasia is a combination of problems which we try to educate our buyers to reduce the chance of your dog ever having it. ​ *Genetics (Make sure parents of your puppy have had some form of clearance in there life time.) *Removing hormones to early (Dogs should not be neutered or spayed until 16 months of age when finished growing.) *A poor diet and lack of Vitamin C ( Help lubricate the tendons and muscles making them more elastic helps joints from pulling out place. -900 mg for puppy- 450mg as adult of GNLD vitamin C) *Keep your puppy a little lean while it is growing—overfeeding causes rapid growth which is a major contributor to hip dysplasia. *Exercise your dog regularly to strengthen the muscles that hold the hip joint in place. Don't however do extreme excercise (The stresses and strains placed on the vulnerable growing joint by extreme exercise are believed to be a contributory environmental factor in the development of inadequate hip joints) *Don't let them get overweight (at any age)!! This places stress on the joint and contributes to the dislocation of the joint and accelerates arthritis formation. ​ Help Prevent Hip Problems ​ Even with the highest quality dog, with all of the clearances and a dysplastic-free family tree, a dog that is not maintained with proper nutrition and exercise can still develop hip dysplasia in their later years. It's important to remember that the sex hormones do play a synergistic role in your dog's growth and development and their removal will create imbalance in the body.We support spaying and neutering Goldens that are not part of a breeding program at the appropriate time between 16 months and 2 years. French Bulldogs maybe spayed or nuerted earlier. The top dog was purchased and received at 1 year of age for breeding purposes. He was never used in the Promise Land breeding program. These films were taken when the dog was 1 year of age. Which clearly shows genetic vs a developed condition. To help others recognize health issues in dog's. This dog had Moderate Hip Dysplsia, Moderate OA, Subluxation and Shallow Acetabula's. The Elbows showed Grade 3 Elbow Dyplsia and DJD at 1 year of age. ​
The bottom dog has Excellent Hips and Elbows and is in the top 5% of breeding Golden Retrievers. He is one of our Male breeding dogs (Dakota).
The top films are to help show others a genetic condition with Golden's. When you evaluate a film to help us decide on dog you look at both hips or elbows. A injury would develop on one side of the body not in both elbows or hips. Unfortunately if the dog is to old we can't identify abnormal wear and tear from over running vs genetic. This is one of the reasons Promise Land does prelims. We don't just x-ray at 2 years old for OFA. You need the entire picture of development of the breeding dog. We were taught this by a orthopedic surgeon for dogs.
---
Heath Testing - Clearances what do they mean?
---
See our Health Testing page on the main bar. This will explain about the tests. How we screen our parent dogs and why. https://www.promiselandgoldens.com/healthtestinggoldens
---
What food and treats do we recommend?
---
We will send you and email containing this infromation to help you.
---
What to wash your puppy or dog with?
---
To order
NuVet http://www.nuvet.com/37695 Promise Land Golden's Not Available in Stores CALL NOW TO ORDER 800-474-7044Order Code: 37695 Save up to 15% on Autoship when you order here: 60-DAY MONEY BACK GUARANTEE! Your puppy gets regular grooming. We wash your puppy with NuVet Puppy & Kitten Shampoo.Detergent and soap free https://www.nuvetlabs.com/order_new2/puppy-kitten-shampoo.asp This is specially formulated to be hypo-allergenic and PH balanced for the delicate skin of puppies and kittens. NuVet's® Puppy and Kitten Shampoo is environmentally safe and created to moisturize your young pet's sensitive skin and give their coat sheen and luster. The shampoo contains a coconut base with aloe vera, vitamins A, D, E and a proprietary blend of botanical extracts; no alcohol or animal by-products are ever used. NuVet® Shampoo is tearless and contains no detergent or soaps that remove the essential natural oils from the skin which your pet needs.
Your puppy then gets sprayed with a Nuvet Oatmeal Spray which softens there skin and coat preventing them from drying out. We use the Nuvet Oatmeal Spray on the adult dogs as well after bathing them. This is Natural & hypoallergenic, Soothes dry, itchy, sensitive skin, Helps restore skin's natural moisture This spray promotes healthy skin and coat for your pet. A coconut spray base includes vitamins A, D, E, wheat germ glycerides, hydrolyzed oat proteins and a special blend of cherry and botanical extracts and almond oil. This product is detergent and soap free and contains no alcohol or animal by-products. https://www.nuvetlabs.com/order_new2/conditioning-oatmeal-spray.asp
To clean all our puppies and dogs ears we use, Nuvet Ear Cleaner. This helps reduce ear wax and promotes clean healthy ears. This is a routine ear cleanser for dogs, cats, puppies, and kittens https://www.nuvetlabs.com/order_new2/ear-cleaner.asp
Our adult dogs we rotate different shampoos. The four Promise Land Goldens use. 1. Nuvet Odor Control Pet Shampoo: In times of unpleasant odors and this even eliminates persistent odors like skunk. NuVet® Odor Control Pet Shampoo is formulated with a proprietary mixture of Natural odor removers and odor counteractants. This coconut based shampoo is a unique blend of almond oil, vitamins A, E, C, cherry and floral extracts and infused with coat conditioners and skin moisturizers. https://www.nuvetlabs.com/order_new2/odor-control-shampoo.asp 2. Nuvet Tea Tree Shampoo: This is a great everyday shampoo to soothe the skin if drying out. Our coconut based shampoo blends tea tree oil, vitamins A,D,E, coconut oil and specifically formulated botanical extracts. https://www.nuvetlabs.com/order_new2/tea-tree-shampoo.asp 3. Conditioning Oatmeal Shampoo – This is a great everyday shampoo to soothe the skin if dryng out. This hypo-allergenic shampoo promotes soothing relief for your pet's skin. A coconut shampoo base includes vitamins A, D, E, wheat germ glycerides, hydrolyzed oat proteins and a special blend of cherry and botanical extracts and almond oil. https://www.nuvetlabs.com/order_new2/conditioning-oatmeal-shampoo.asp The Nuvet products are soap and detergent free so it won't extract vital natural oils from your pet's skin and we never use alcohol or animal by-products. 4. FURminator deShedding Ultra Premium Dog Shampoo In heavy shedding times Spring and Fall. Reduces excessive shedding & promotes healthy skin & coat Enriched with omega 3 & 6 fatty acids Contains calendula extract & papaya leaf extract No parabens & no chemical dyes Safe for dogs over 6 weeks old Followed by the FURminator deshedding Ultra Premium Dog Conditioner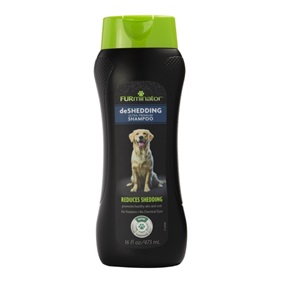 At times the skin of your dog may get irritated and if this happens. NuVet Soothing Skin Spray: Mild skin conditions may result when the skin is scratched by brush and bramble or from insects bites. Sensitivities may develop if bacteria or fungus enters the exposed skin.
---
---